Klein Karoo Heritage Eco-Trail
This page covers the Klein Karoo Region from Uniondale in the East to Calitzdorp in the West including Oudtshoorn and Calitzdorp as well as Prince Albert on the other side of the Swartberg Mountain Range in the Great Karoo.
De Rust offers a full range of outdoor activities including hiking, mountain biking, horse trails as well as having a wide range of other activities available. In addition, the Klein Karoo offers some of the most spectacular scenery available in South Africa plus having a wide range of heritage activities from learning about the earliest inhabitants the San to later residents of the area including the Boer Trekkers and wagon trails. There are also sites of battles between the Boer and British forces during the Boer War at the turn of the 19th and 20th Century.
Visit all of the above locations and use De Rust as the central location and base for your unique and special Klein Karoo holiday adventure. We really would like to host you here in our "special village" and get to know you better.
read our monthly newsletter here
Map of the Klein Karoo Heritage Eco-Trail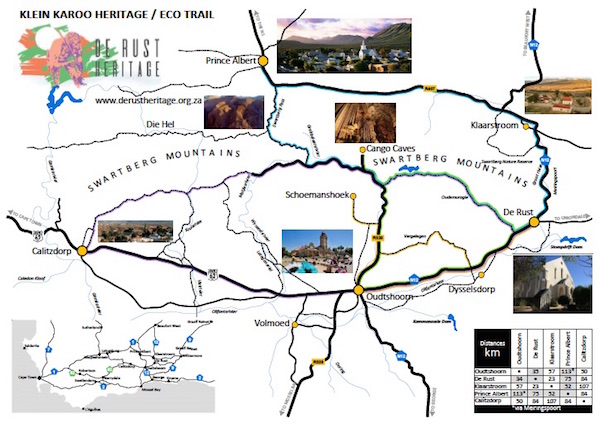 Klein Karoo Heritage/Eco Trail
the map can be downloaded as a pdf here
Things of Interest to Do in De Rust
See the drop-down page on De Rust in this section of the website below
Easy Day Trips from De Rust:
De Rust to Prince Albert via Klaarstroom - returning via the Swartberg Pass and Oudemuragie
De Rust to the Kango Caves and return via Oudtshoorn
De Rust to Calitzdorp via Oudemuragie and the Dirt Road through Matjiesriver
De Rust via Dysselsdorp and Vergelegen Road to Schoemanshoek - returning via Oudemuragie
Other Recommended Trips:
De Rust to Uniondale and on to Knysna via Prince Alberts Pass
De Rust to Die Hel via Oudemuragie - two day trip for 4x4 vehicles only
Note: Additional information is available on the towns falling within the "Klein Karoo Heritage Trail" on drop-downs for Prince Albert, Calitzdorp, Uniondale, Oudtshoorn and Klaarstroom as well as De Rust.
For news on things to do in Prince Albert each month you can read The Story Weaver newsletter here.