De Rust – A Heritage Sensitive Area
The Village of De Rust is a "Heritage Sensitive Area" and as such falls under the National Heritage Resources Act of 1999. In addition, the Oudtshoorn Municipality Spatial Development Framework of 2015 clearly identifies De Rust as a Heritage Sensitive Zone. Bearing this in mind the map of the Village below indicates the current status of the various properties. These are indicated on the map as follows:
Heritage Properties
These are properties older than 60 years some of which have been restored and others that require restoration.
Open Erven/Undeveloped
Undeveloped stands in the Village. However, in the "Heritage Sensitive Area" any new properties are required to fit into the natural streetscape of the area.
New Houses
These are houses less than 60 years old which were built prior to the enactment of the National Heritage Resources Act of 1999.
Shops/Businesses
Most of the existing shops and businesses occupy properties built over 60 years ago and are subject to the National Heritage Resources Act. There are however, a number of properties which were built prior to the introduction of the Act.
Main Conservation Area
The Main Conservation area is marked with a solid black border. Within this area any new buildings or renovations must comply with the Act and submit plans to the Heritage Permit Committee in Oudtshoorn.
Old Inventory
The Old Inventory are the heritage buildings identified in the "original survey" carried out by the team from the University of Port Elizabeth (now Nelson Mandela University).
Tourism Office
The Tourism Office has recently moved and is now located on the corner of Schoeman and Kerk Streets.
May, 2018
Map of the Heritage Sensitive Area of De Rust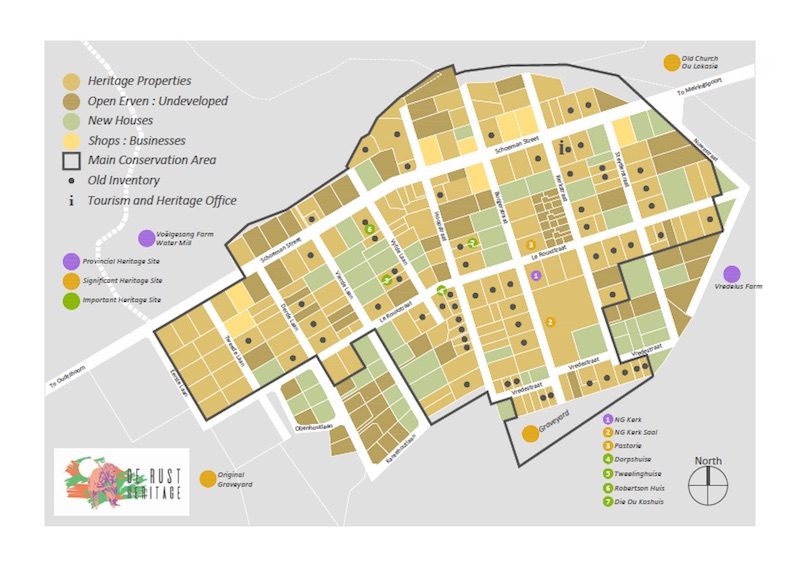 De Rust Map
This map can be downloaded as a pdf file here
The map with accompanying text can be downloaded here