"De Rust Heritage Now"
November Newsletter #11/2019
Articles & Comments
The article was published in the Heritage Portal in October, 2019 by De Rust Heritage and looks at the existing "Heritage Legislation" as well as the lack of action by both the Oudtshoorn Municipality as well as Heritage Western Cape.
The article attached below explains in detail how the situation on the ground can be rapidly improved by the simple and quick action of using both the existing "Heritage Legislation" contained in the National Heritage Resources Act at provincial level as well as by using existing Municipal By-laws at the Municipal level.
We are sharing this with our readers on the basis that it is important to know why heritage efforts are often less successful than they could/should be in our Village and elsewhere. However, heritage efforts do make a difference and it is important to note that unlike many other similar size settlements in the Karoo property prices in De Rust have increased significantly over the past few years.
Concerned involved communities and residents ensure these are successful compared to less successful parts of the province and country. Based on this approach we will continue to ensure that the De Rust community continues to thrive and grow in these challenging times.
"Why Existing Heritage Legislation Is Ineffective"
An Issue of a Total Lack of Effective Enforcement & Structure
Introduction: Currently registered heritage bodies which are organised, funded and run by dedicated volunteers are battling against the lack of practical on-the-ground enforcement efforts by both Provincial Heritage bodies such as Heritage Western Cape as well as at Local Government Level in municipalities.
In using the Western Cape as the example, which is supposedly the best run heritage body in the country, the picture reflects badly on all of the Western Cape Provincial Government, Heritage Western Cape and local municipalities such as Greater Oudtshoorn.
The issue is one of a serious systemic failure at all levels of provincial and local government including outdated top down organisational structures with many political players still not appreciating the need for decentralisation and integrated multi-disciplinary management teams at all levels.
Some Proposed Solutions: In considering practical solutions to the problems described above it is worth pointing out that in many cases effective enforcement of existing legislation and municipal by-laws, should and could be the first step in resolving many of the current outstanding issues.
Currently Heritage Western Cape operates a centralised, top down outdated 20th Century structure which is highly bureaucratic. In addition, its major focus is on the Cape Town Metro and Winelands with little or no regard for the outlying regions such as the Southern Cape and Klein Karoo. This issue has been raised with Heritage Western Cape numerous times, including the submission of proposals in 2018 on a decentralised regional based structure with the provincial body being responsible for empowering the regions through assisting in training officials at the local municipalities – see www.derustheritage.org.za under HWC.
Following on to the above the Oudtshoorn Municipality in conjunction with the two registered heritage bodies in Oudtshoorn, Heritage Oudtshoorn Erfenis and De Rust Heritage already vet all applications for heritage buildings over 60 years old through the Joint Heritage Permit Committee. This body meets on a regular two weekly cycle and many of its members have attended the Heritage Programs conducted specially in Oudtshoorn by Professor Matilda Burden from the University of Stellenbosch University Museum.
At the same time local municipalities such as Greater Oudtshoorn, need to pro-actively use their existing by-laws in order to use these to curb infringements of both the building regulations and the heritage legislation. This also applies to Heritage Western Cape, where at a recent meeting held in George their legal officer admitted they did not have the necessary resources to prosecute offenders or to follow up on infringements. So where to from here?
Some Practical Examples: Heritage Western Cape are responsible for Grade 2 Provincial graded buildings but often fail to follow-up with site visits, as was the case recently in De Rust where an application for security fencing on the front of the Dutch Reformed Church which is a provincial heritage site was applied for with all the detailed information supplied.
It was clear from the response received from Heritage Western Cape that the committee involved had not examined the drawings supplied as they requested alterations to the design which were not justified. In addition, they did not request clarification from the De Rust Heritage Conservation Association in any way although it was freely available by a quick phone call.
Heritage Western Cape are renowned for not responding to correspondence querying their decisions as well as ignoring positive proposals regarding restructuring. It is also obvious that they are thin on capable and experienced human resources and also lack a knowledge of the real world of South Africa and its realities.
At the local level the Greater Oudtshoorn Municipality have assigned an experienced building inspector dedicated to the village of De Rust. However, in the case of infringements taking place although notices are issued to those contravening the legislation in the Village there is no follow-up by the municipalities legal department in terms of fines and other available sanctions. This is encouraging people to carry on regardless – no follow-up = no consequence = failure!
There are many other similar examples available but until there is a better understanding of how effective organisational structuring can bring direct benefits at all levels of provincial and local government the opportunities will be lost. In addition, the issue of protecting one's own perceived turf is still very much in evidence at both provincial and local government levels.
Proposed Action: In terms of the above it is suggested that by using the existing legislation and by-laws more effectively, not only would enforcement become more evident but that additional funds would become available to the municipality. These funds could be generated through the collection of fines for contravention of the existing legislation at both provincial and local level.
Added to the above it appears as if Heritage Western Cape have an in-built suspicion of the registered heritage bodies and believe that only academics have the knowledge and skill to be the "heritage experts" which is far from correct. This is typical of government institutions in the province generally and this issue needs to be better understood going forward into the future. In considering the skills available through the registered heritage bodies in the Western Cape the "available human capital through volunteers" could double or triple the skills available to Heritage Western Cape on an on-going basis.
Conclusion: Currently South Africa as a whole suffers from a lack of effective law enforcement – we have in many cases all the required laws and regulations to go forward. However, until these are applied in a consistent way the country will continue its general decline. Part of the solution is by creating regional structures such as one proposed for the Southern Cape & Klein Karoo resulting in a more hands-on and better informed approach.
The on-the-ground local expertise and resources are already available in Greater Oudtshoorn. What is now required is practical action by Heritage Western Cape in facilitating the next stage of the process and empowering the Oudtshoorn Municipality and the Joint Heritage Permit Committee in undertaking all Level 3 gradings in the Greater Oudtshoorn area. At the local level, regular audits by Heritage Western Cape can be conducted on a quarterly or six monthly basis In order to ensure that the required standards are maintained and/or improved.
Only by assisting in the above process will it be possible to continue to enforce the existing heritage laws and regulations in arresting the on-going loss of many valuable heritage assets for future generations – this cannot be done centrally and must change as a matter of urgently.
We look forward to further developments from Heritage Western Cape as mentioned above in order to ensure that the required standards are continuously improved over time. Through effectively enforcing the existing by-laws this also ensures that the Municipality is able to raise additional finance from delinquent owners, which in turn provides funds for more effective enforcement of the law. Surely, this should be a top priority for the Oudtshoorn Municipality and its officials in Town Planning and Building Control – why is this not being done?
Cost effective training programs are also available in order to provide the required additional skills to municipal officials in order for them to be equipped to take over the responsibility of Level 3 Local Gradings. This will go a long way to making the local municipality self sufficient while also lessening the load at Heritage Western Cape. In addition, the municipality has already committed to provide funds for Heritage Surveys and these funds could be utilized for this purpose.
Enforcing the existing heritage laws and regulations will make it possible to arrest the on-going loss of many valuable heritage assets in the future – this cannot be done centrally and has to change as a top priority. We look forward to both HWC and Greater Oudtshoorn Municipality responding positively to this basic legal requirement.
De Rust Heritage Conservation Association
01 December, 2019
______________________
"De Rust Heritage Now"
October Newsletter # 10/2019
"Special Spring Festival Edition"
This edition of our Newsletter provides feedback on the "Spring Festival" held over the week-end of 20 to 22 September in De Rust.
Official Opening – Friday Evening 20 September
The De Rust & MeiringspoortSpring Festival was opened with an Art Exhibition located in the section of the building behind De Rust Tourism. This was particularly well attended and it was amazing to see both the quality and range of art forms produced locally in the Village. This extended from paintings to pottery, glass art and needlework among others.
Some of the Paintings on Display

Saturday 20 September
The following morning there were stalls set up outside a number of the buildings in the Main Street with various interesting items available for sale. The Art Exhibition was also open to visitors.
Stalls set up outside a number of the Local Shops
In addition short rides on the local horse trap from Blomnek were also available for visitors.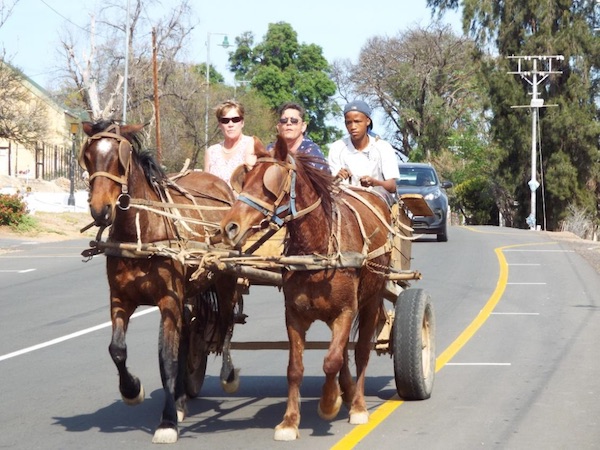 Taking a Trip down the Main Street in De Rust
| | | | | |
| --- | --- | --- | --- | --- |
| | Other activities included a well attended Horse Trail with Celia Le Roux at Doornkraal and the Birding Group went to Meiringspoort. | | | |
Saturday Evening Music in Meiringspoort
Music in the Meiringspoort Ampitheatre with Jaco
At 17h00 Festival goers were entertained by Jaco Kriek our local Optometrist from Oudtshoorn who provided a full variety of saxophone music which was both entertaining and impressive.
In addition to the music a range of complimentary refreshments was available courtesy of Swepie Le Roux from Domein Doornkraal.
Following the recital the crowd then moved on to Meijersrust Guest Farm for typical Klein Karoo country fare prepared and served by Sjaan and Hein van Tonder from the "Red Donkey" in De Rust.
Donations in cash and kind were made in terms of a Rooibok and Springbok as well two lambs and pork roasts plus various cash donations from a wide variety of donors. Sincere thanks to all.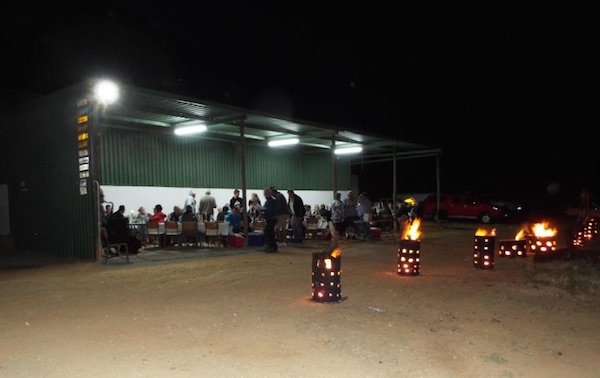 Dinner Scene at Meijerst Guest Farm
Sunday 22 September
On Sunday morning there was a "Special Spring Festival Church Service" at the NG Kerk in De Rust to wind up the Spring Festival events. Dominee Wian Vos from George, a previous old boy of De Rust High inspired those at the service including all those who attended the De Rust High School Reunion over the week-end.
Final Conclusions & Thanks
This concluded the Festival activities for the inaugural De Rust and Meiringspoort Spring Festival which will hopefully be repeated in years to come as a regular annual event.
We also wish to take this opportunity to thank the organisers of the Inaugural Spring Festival, Willie Immelman and Callie Burger for all the time and effort they spent in putting together such a successful event. Sincere thanks also to Barry Meijer for allowing the Festival to utilise his facility for the evening function following the saxophone music event in Meiringspoort.
In addition, a special thank you to all the volunteers and donors without whom it would not have been possible to stage the Festival so successfully. Thank you all – it was greatly appreciated and we hope you enjoyed the experience and believe the effort worthwhile.
Finally, we hope you are ready for the 120th Anniversary Festival celebrating the Founding of De Rust to be held in 2020.
De Rust
23 September, 2019
You can download this special newsletter as a pdf file here
____________________________